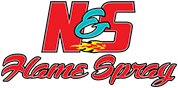 FORTY YEARS OF METALLIZING SERVICES
After more than 40 years in the business, a lot has changed in the world. But at N&S Flame Spray, they still, abide by the enduring values that set them apart from their competitors. N&S Flame Spray is a machine shop that specializes in nickel hard coatings and is mainly oilfield related. In addition to that, they also specialize in Aerospace Sytems at N&S Aero. N&S Flame Spray strives to do the right thing by their customers, employees, investors, and communities. That means a steadfast commitment to excellence, integrity, and a handshake that's as solid as any contract. The Flame Spray business has evolved over the years, but they are still providing the products and services that people rely on every day. Across the United States and around the world, N&S help's meet the hard coating needs of a growing society.
N&S Flame Spray manufactures all kinds of new and used plungers, shafts, mandrels, and valves that span multiple industries. At N&S Flame Spray, they have the equipment available to meet the many needs of their customers. In fact, they have invested in their company to ensure they're able to meet the needs of the industries they serve for many years to come! Check out a sampling of the pieces of machinery currently in operation at N&S Flame Spray, here.