4 Reasons Why Manufacturing Websites Need Quality Content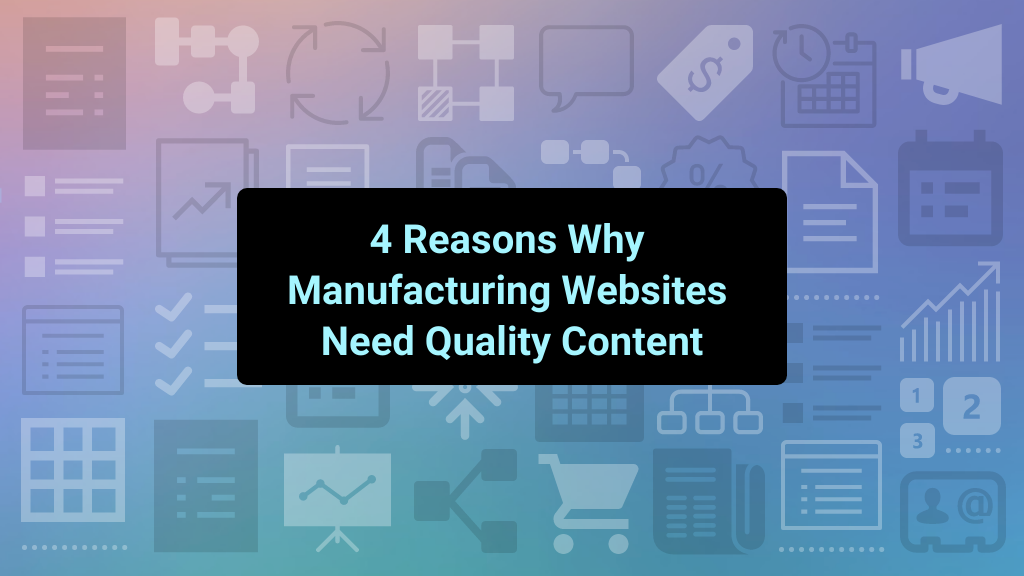 Content marketing is not a newfangled buzzword. It's a form of marketing different from advertising. Its goal is to attract your target audience to your website with useful and interesting information, so it is focused on the creation and distribution of content to a targeted audience online.
Even the more traditional manufacturing industry can benefit from a successful content strategy – planning, development, and management of written or other media content.
More and more companies are utilizing the benefits of quality content. According to Google, high-quality content demonstrates the EAT principle – expertise, authority, and trustworthiness. In other words, it makes you look good to your customers.
The latest statistics show that only 9% of B2B (business-to-business) and 14% of B2C (business-to-consumer) brands don't use content marketing. Are you one of them? It's never too late to start.
Here are 4 reasons why manufacturing companies like you need quality content.
1. Content marketing is a business strategy.
According to recent research, the top three contributing factors to the success of B2B and B2C marketers in 2017 are all connected to content – strategy, content creation, and content distribution.
Content marketing is a cost-effective business plan or investment. It offers great long-term benefits. It's possible not to yield much in the first few months, but your results will grow in the next few months and it only starts from then. Content marketing is an investment that can benefit you even years after.
2. Your web content determines your search results.
High-quality content gives you visibility online. It's not enough to just have a website or business listing, you need content relevant to your audience. That's how search engines work, especially Google, the top search engine today.
You need to have fresh and audience-relevant content in order for your business to rank on search engines. Although you're doing it to rank in search results, you should still have the "audience first" logic. Google does not only use keywords to index and rank millions of content, but also the relevance and credibility of the content.
Each content you add to your website is a new page for Google to index. The more high-quality content you make, the more pathways you are creating on the web leading to your website. With highly relevant content, the better chance of boosting web traffic to your website.
3. A new audience means new potential customers.
Increased web traffic means more visitors to your website. Each visitors are a potential customer. Now you'd want these visitors to stay on your website or even more, make a purchase. You can do those with content.
70% of internet users now prefer to get information about a product or service through content instead of the more traditional advertisements. About 47% of buyers view 3-5 content pieces before they contact a brand for purchase.
First, you attract your audience with relevant content. Then you leave a good website impression. Still, through content, you influence and lead your visitors towards a purchase.
4. Content marketing improves brand authority and reputation.
There are more than 4 billion internet users today. Ads in print and billboards are no longer as effective as they used to be. You can reach a vast yet still targeted audience through content marketing instead. Your audience can build an impression of your company through the content you provide them if you have any at all.
Content should be relative to your audience. The primary objectives are to inform, help, and engage with your audience. By doing so, you build a consumer-friendly reputation.
Creating higher quality content also increase comparable authority and expertise within the industry. The more reliable your content is the more trust your website and company gains.
A great content marketing strategy opens doors to more opportunities for your manufacturing company. You build your reputation and establish authority, reinforcing customer relations which ultimately leads to a successful business.
Driven Digital provides effective digital marketing strategy –content, social media marketing, SEO, and more– to manufacturing companies like yours. Check out what we do or contact us to learn more.