The Best Way for Manufacturers to Sell Parts Online!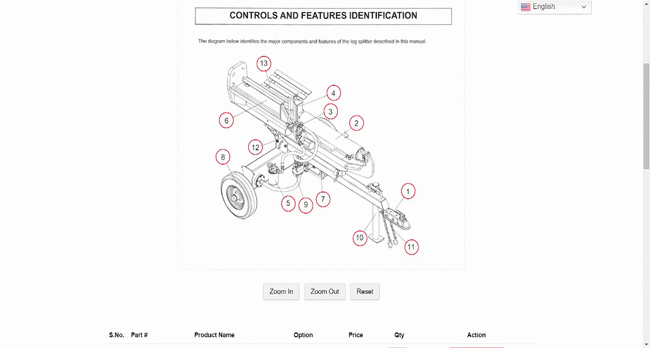 Selling parts may not be your highest profit point, but it is necessary for most manufacturers.
With the rise of customers seeking an alternative, convenient solution to ordering parts hassle-free, many of today's businesses are turning to providers who sell parts online.
Offering your customers the option to order with a single click from the comforts of their own office saves the consumer time and money while doing the same for you!
It might feel daunting and overwhelming to consider selling parts online. We get it! And that is why we are here to help alleviate your burden with our service, orderparts.online.
Simply put, orderparts.online is a turn-key solution for your parts division that will streamline your parts ordering process and improve your profit margins – While keeping your customers happy!
The name speaks for itself; you allow your customers to easily find what they need, and you sell parts online!
With orderparts.online, you can easily cut labor hours and the number of incoming calls for the usual parts lookup. Orders can be submitted over the internet 24/7 without hassle, leaving your team plenty of time to prepare incoming orders for shipping as soon as orders arrive.
Spend less time on the phone to have more time filling orders.
Increase Revenue
Increase revenue by making it easy for your customers to order parts 24 hours a day, 7 days a week.
Decrease Cost
Cut operation costs by reducing the labor hours. Reduce incoming calls for parts lookup.
Turn-key Solution
We had the payment gateway, shipping, and tax integrations and it works with your existing website.
How Does It Work?
Sounds great, doesn't it? It gets even better with our three-step process.
By scheduling a demonstration with one of our eCommerce experts, you are already into step one.
Step two is to gather the data to provide an onboard specialist with your parts information. Here, we set up and organize an easy-to-follow schematic for customers to easily search for their parts online.
Our last step is the best one! – Launch your online parts website and start selling your products online!
Easy Three-Step Setup
Schedule a demonstration
Gather Data
Launch and sell!
Included Features
SSL Certificate
Enhanced eCommerce Tracking
Submitted to Search Engines every month
High-Security Network
No site rebuilds required
What makes orderparts.online even better is that there is no need to go through the expensive rebuild of your entire site. We simply add a link to your existing site's navigation and match your design to your online parts shop. No one even has to know that it is a separate entity, and you can cancel the service at any time – we don't require a long-term contract.
Want to update your website along with orderparts.online?
Along with helping streamline your parts, we also can handle your need for a new website!
Driven Digital is a website service company specializing in building sites for manufacturers. We analyze your business needs and develop a strategy to build a high-impact website.
We offer a wide variety of services including Search Engine Optimization (SEO), which increases the quality and quantity of traffic to your manufacturer's website and Hosting and Maintenance with our excellent Website Security. We implement a four-step plan to create your future website:

First, we Plan: Our team of website strategists helps you determine your website goals and lays out a plan to ensure that you achieve them.
Benchmark Your Current Website
Analyze Your competitors
Develop Project Strategy 
Plan Content
Design Website Elements 
In the Do phase, we take the deliverables that were created in the Plan phase and turn them into a website.
Progress Meetings
Website Build
Add your website content (text, images, video, etc.)
Optimize your site's code and content for search engines


Then, we Check: Quality Assurance is of the utmost importance for website reliability and performance. After the site build is complete, we perform numerous functionality tests to ensure it meets our strict QA standards. 
Functionality Testing
Copy Editing
Error Checking
Internal Audit
At this point in the process, your site has been built using your content and design specifications, rigorously tested for functionality performance, and is ready to launch!
Pre-Launch Audit
Domain Mapping
Hosting Setup
SEO Reporting
Client Training

After your site is fully launched, we provide 60 days of support (Contact our dedicated support team at support@drivendigital.us) as well as one-on-one training so you can make your own website edits – we make it easy for you!
Schedule a Meeting with Driven Digital!
Ready to Get Started?
Orderparts.online is a one-time setup fee with monthly maintenance plans from Basic to VIP based on the volume of component parts.
Free up your telephone lines, recover precious time, and streamline your parts ordering process! Visit us at orderparts.online or Driven Digital to get your website and streamline your online parts! Let us get you online and ready to sell to a wider audience!