Digital Marketing Cheat Sheet for Manufacturers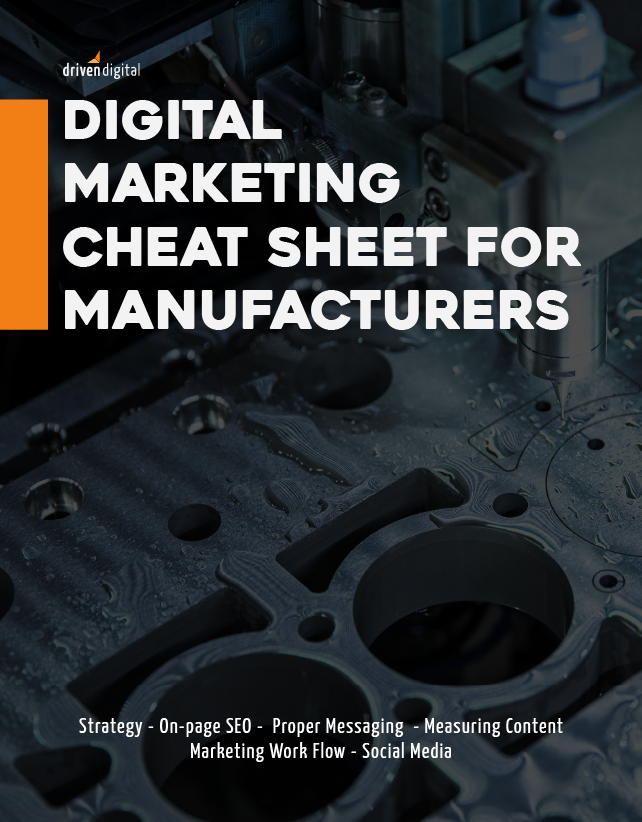 Digital marketing can be confusing, we get it! But it doesn't have to be. Our highly effective and free resource, the Digital Marketing Cheat Sheet for Manufacturers, can help you successfully drive business and increase your revenue in 2022.
You're a manufacturer in need of a digital marketing cheat sheet, if:
Your goal is to rank higher in search results, for keywords related to your manufacturing services
You have a goal of getting your targeted audience and potential customers to see you in search results, when they're searching for your manufacturing services
Your goal is to be known as an authoritative and resourceful manufacturer, providing authoritative and resourceful content
You have a goal of high online engagement, using your social media accounts
A Manufacturer's Plan & Strategy
Initially, manufacturers will need to plan and strategize their digital marketing efforts. You want your manufacturing business to rank high in search results, for the specific keywords your target audience is typing in search engines. This ensures that your targeted audience is finding you and organic traffic is continuously coming to your site. Two tools that will help guide you in building your keyword list, ensuring they're relevant to your manufacturing services, are keyword research and competitor analysis.
On-Page SEO for Manufacturers
Now that you have a relevant and efficient keyword list, do some on-page search engine optimization (SEO) to your website. Place your top targeted keywords throughout your content, allowing users to find you when they're searching for your manufacturing services. You want your targeted keywords to be thoroughly placed throughout the content on your site. The percentage of your keywords, in each piece of content, is referred to as keyword density.
Internal links allow you to keep your visitors engaged on your site, for as long as possible. An internal link is linking back to one of YOUR other manufacturing webpages or blog posts. For some help with search engine optimization (SEO), you may need to contact your favorite website agency for manufacturers!
Proper Messaging for Manufacturers
Basic on-page search engine optimization (SEO) has now been completed on your site. Next, be sure you have a proper message for your manufacturing services. A successful messaging framework will make your visitor aware of the problem you're trying to solve and help you become a resourceful guide as a manufacturer. Having a proper and successful message will benefit your manufacturing business in various ways, including increasing your quality leads, visitors clearly understanding your manufacturing services, and so much more.
Analyzing & Measuring your Progress
It's extremely important to always know where your numbers are at. Measure your progress and analyze your results on a regular basis. Measuring your performance allows you to identify weaknesses within your manufacturing business. As a result, it'll bring awareness to what you're struggling with, so that you can improve your performance and meet your overall business goals. Analyzing your results, also, shows you which areas you're performing well in and where your strengths are at. Constantly measuring the performance of your manufacturing business can provide numerous benefits, including:
Increasing the sales of your manufacturing products or services
Increasing traffic to your manufacturing site and social media pages
Decreasing the amount of customer complaints
A Manufacturer's Content Marketing Work-Flow
As a manufacturer, you need a strategy and our Digital Marketing Cheat Sheet to continuously market your manufacturing content. You want your content marketing workflow to be efficient, strategic, and continuous. You, also, want to ensure that your content marketing workflow is clearly defined, allowing for an effective and smooth process. As a result, you'll succeed in:
Developing relevant and resourceful content over your manufacturing services
Developing manufacturing content on time and regularly
Avoiding setbacks during the content creation process
Social Media for Manufacturers
Where is your target audience as a manufacturer? Knowing where your audience is can help you drive more traffic to your website. You don't want to put time, effort, and money into social media platforms your targeted audience doesn't use. Once you know which channels your audience is on, you can post resourceful and informative content over your manufacturing services on those channels, for them to see.
To download the full version of the Digital Marketing Cheat Sheet for Manufacturers, including links to online tools and more, click here.